YouTube Channel


Facebook Page


Twitter Page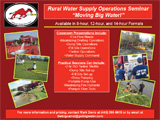 Rural Water Supply Operations Seminar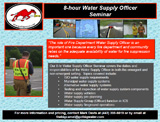 Water Supply Officer Seminar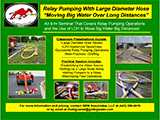 Relay Pumping With Large Diameter Hose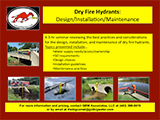 Dry Fire Hydrants Seminar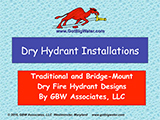 Dry Fire Hydrant Designs and Installations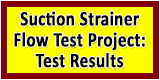 Web Counters
Website Visitors
Since
June 22, 2009

Visitors Today
Jun 03, 2023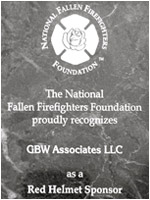 Portable Pump Use #4 - 250 Beats Zero
By President Mark Davis
March 9, 2023
Some photos from our 2011 seminar in Morrisvale, WV where the folks ended up using a floating pump to transfer water during a 4-dump tank, 1000 gpm flow operation. The portable pump was driven by an 8-hp motor and was capable of 250 gpm at about 12 psi discharge pressure according manufacturer specs. We had no way of measuring flow that day but the pump supplied water to the primary dump tank using a 50-ft length of 3-inch hose and that flow was better than zero gpm...which would have been the answer because no additional jet siphons were available for use.
Probably not the ideal situation but the floating pump never stopped running and never touched the bottom of the dump tank and the folks never ran out of water. So in the end, the ability to add a 250 gpm+ transfer method without using pumper capacity worked out just fine.



The floating pump filled the void of having no jet siphon device available. While it did not move as much water as a traditional jet siphon...the other choice was zero water. So this worked out just fine on this day.