YouTube Channel


Facebook Page


Twitter Page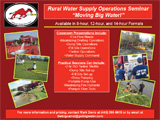 Rural Water Supply Operations Seminar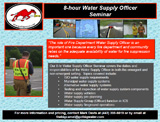 Water Supply Officer Seminar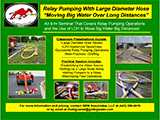 Relay Pumping With Large Diameter Hose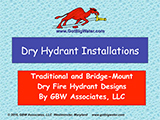 Dry Fire Hydrant Designs and Installations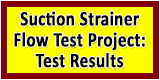 Web Counters
Website Visitors
Since
June 22, 2009

Visitors Today
Sep 26, 2020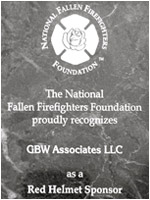 What's on Your Tanker? #23 - An Important 30 Degrees
By President Mark Davis
April 23, 2020
The use of elbow-style fittings (generally the 30-degree sweep style) on LDH intake and discharge connections is important on two fronts. First, the weight of LDH when filled with water can place quite a bit of stress on the discharge/intake connection. The higher up the connection, the more the hose is suspended and the more stress placed on the fitting. Second, without a 30-degree elbow the LDH can kink at the fitting much easier. Something as simple as the 30-degree fitting doesn't seem like a big deal but it certainly can make a difference when trying to load tankers. Therefore, the best practice is to use the 30-degree "turn-down" fittings whenever using LDH discharges and intakes.



A 30-degree elbow helps reduce the possibility of a kink in the LDH fill line due to the weight of the hose when filled with water.




While it works, the LDH adaptor on this smaller threaded fitting does not have a 30-degree sweep feature, thus the weight of the LDH places a lot of stress on the coupling...and can lead to a significant kink if the hose is not repositioned after it is charged.