YouTube Channel


Facebook Page


Twitter Page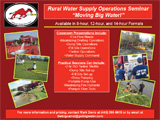 Rural Water Supply Operations Seminar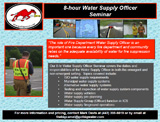 Water Supply Officer Seminar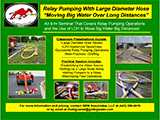 Relay Pumping With Large Diameter Hose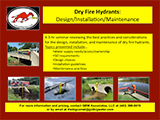 Dry Fire Hydrants Seminar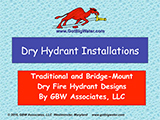 Dry Fire Hydrant Designs and Installations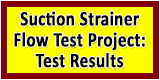 Web Counters
Website Visitors
Since
June 22, 2009

Visitors Today
Dec 08, 2023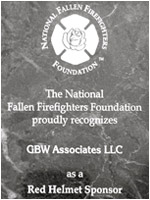 Guestbook
Your feedback is important to us. Feel free to leave your comments.
| | |
| --- | --- |
| Page of 3 [ Back | Next ] | Records 1 - 30 of 69 |
Signed on May 17, 2023 at 10:34 AM
Name:
Dan Erickson
Rank/Title:
Former volunteer fire chief - Town of Lakeside Vol. Fire Dept
Location:
Poplar, WI.
Comments:

I grew up in a small town fire department that borders Lake Superior. In 1982 I became Chief at thee age of 19. Our budget was $500 a year at the time. We had a 1974 Darley 750gpm pumper and a 1000 gal tanker, rubber and cotton turnout gear. We were basement savers. I read every article I could get my hands on by Larry Davis and by 1984 the members of the department built a 3,000 gal tanker out of donated steel and plumbing. Most of the members were farmers, although we had some plumbers and pipe fitters within the department- which made for a good working combination. We worked round the clock outside of our jobs and sleep. A lot of the ideas in how we built the truck came from Larry Davis. That truck stayed in service for 30 years. We also mounted an irrigation pump between the cab and the tank with a 6" aluminum pipe/spout that rotated from side to side over the top of the cab (using the pto on the transmission for power). We could drive alongside a tank on either side or front unload. 500 gpm at idle, 2,500 gpm at 1000 rpm. The project brought the whole Town together, especially when skeptics were proven wrong, people donated their own money, and some firefighters bought their own turnout gear and buy the end of 1984 everyone in the department was wearing brand new Nomex turnout gear. Within a year removed the hose reels from the engine and replaced them with preconnect crosslays. Had preconnected hose lays on the cat walks above the wheel wheels at chest level. Built a jet bailer out of PVC pipe and had 2: 3,000 dump tanks. The costs of the original tanker was just under $7,000 ( the chassis was $5,000) 5 years later we replaced the chassis to the tune of $18,000. We had multiple buildings including a barn donated for live fire training and one farmer bought us an Akron monitor. I credit Larry Davis and a few others for being the driving force behind the success the department and I had back in those days (1980's - 1990's) I'm no longer on the department but still keep tabs on it. Today the department has a female Fire Chief ( Nova Nordrum) and has a 1,500 gpm pumper, 3,000 Darley pumper/tanker (tender) A rescue squad, a brush truck and a 4x4 rescue.
Signed on July 21, 2020 at 10:53 AM
Name:
Ken Stroud
Rank/Title:
Chief
Web Address:
https://m.facebook.com/groups/1869705199911586?ref=bookmarks
Location:
Franklin County, MS
Comments:

East Franklin VFD, established in 1976, is a rural all volunteer fire/rescue/EMS community organization in SW Mississippi.
Signed on July 11, 2020 at 11:03 AM
Name:
Jim Morrison
Rank/Title:
Chief
Web Address:
1103 17th ave.
Location:
Viola IL.
Comments:

We are a small volunteer fire department in Viola IL. , always looking for new and better ways for trainings and knowledge in the fire service .
Signed on July 08, 2020 at 7:53 AM
Name:
Robert Densmore
Rank/Title:
Training Coordinator and Station Captain
Location:
North Middlesex Ontario
Comments:

Great site
Signed on October 05, 2017 at 8:46 AM
Name:
Kevin Stoneking
Rank/Title:
ISO Coordinator for the Oklahoma Insurance Department
Web Address:
Oklahoma state insurance department.
Location:
Oklahoma City
Comments:

Hauled water has dramatically lowered ISO PPC's in Oklahoma in the last 5 years.
Signed on April 14, 2017 at 4:00 PM
Name:
Bryan Grasser
Rank/Title:
Lieutenant
Location:
Ivor, VA.
Comments:

Great Site Folks. Plenty of good information...

Thank you
Signed on October 30, 2015 at 1:56 PM
Name:
jay henley
Rank/Title:
Firefighter MCFR
Comments:

GREAT SITE
Signed on October 04, 2015 at 11:37 AM
Name:
Robert
Rank/Title:
FF/Paramedic
Comments:

Great stuff
Signed on April 26, 2015 at 8:08 PM
Name:
Marvin Miller
Rank/Title:
captain
Location:
chillicothe ohio
Comments:

I recently attended the water supply officer training seminar in Delaware Ohio. It was very informative and reminded me of some options we have that a lot of people forget at times, including myself. Training is always good no matter how long you have been in the service. Thank you, Marvin Miller Captain Colerain Twp. Fire Dept.
Signed on February 25, 2015 at 9:00 AM
Name:
Mike Lombardi
Location:
South Salem Fire District, New York
Comments:

Thank you Mark for the "out of service" hydrant signs & the tip leading me to Pollard Water for the "flush only" signs each were a successful step to completing a Got Big Water assessment for our fire district. To date we have added 10 new dry hydrants including a bridge mount. Your assessment is easy to follow loaded with information and very professional.
Regards, Michael J Lombardi Commissioner South, Salem NY Fire District.
Signed on February 01, 2015 at 12:02 PM
Name:
Scott Wright
Rank/Title:
Assistant Chief
Location:
Vienna, Illinois
Comments:

This is a great site. I have gotten a lot of good information from what you have posted here. Thanks.
Signed on January 31, 2015 at 2:18 AM
Name:
James Baisden
Rank/Title:
Chief
Web Address:
http:/nikiskifd.org/
Location:
Nikiski, Alaska
Comments:

The Nikiski Fire Department is in Alaska and Larry Davis visited back in the 80's , and has used Nikiski for Big Water Presentations for many years! RIP Larry

NFD is still moving big water in Alaska today!
Signed on October 28, 2014 at 10:42 AM
Name:
DOUGLAS P. BLOODGOOD
Rank/Title:
RESCUE/PUMPER DRIVER
Location:
OTISCO FIRE DEPARTMENT
Comments:

I LIKE TO THANK GBW STAFF FOR PUTTING ON A GREAT COURSE. I BEEN TO3 OF THEM AND ALWAYS PICK UP SOMETHING NEW.
Signed on April 01, 2014 at 11:37 PM
Name:
Lt. Donald Knapp
Rank/Title:
Lt./EMT B
Location:
Port Byron fire department
Comments:

Thanks Mark and Al for the great training weekend! I believe this is this best training for LARGE amounts of water there is. Yes we always drafted water and we use dump tanks but these guys really opened our eyes to moving big water with the equipment we already have.I also want to say, small rural fire departments need to combine whatever funds they and there neighbors have and get these guys to do an area wide seminar.It's worth every pancake or fish basket served!
Signed on March 25, 2014 at 4:49 PM
Name:
Burkie Hollenberger
Rank/Title:
Asst. Chief
Location:
Little Rock, AR USA
Comments:

Great site, I noticed a few ideas just from looking at this. I will continue to come back more for information.
Signed on January 16, 2014 at 8:53 PM
Name:
Buddy Colby
Rank/Title:
Captain
Web Address:
purcellvillefire.org
Location:
Purcellville Vol. Fire Co Loudoun County VA
Comments:

Great web site. Awesome to see so many eager to learn from others. Loudoun County has a great rural water supply procedure.
Signed on December 02, 2013 at 10:02 PM
Name:
John Calender
Rank/Title:
Captain / Training Officer
Location:
Crawforsville AR
Comments:

Nice looking web site. And great
Signed on October 23, 2013 at 10:09 AM
Name:
Mike Swanson
Rank/Title:
3rd Asst. Chief Ashville Fire Dept.
Location:
Stow, NY
Comments:

Had a great time and learned a lot and how to fine tune what we currently in place. HIGHLY RECOMMEND this class to anyone out there ! ! ! Working on bringing this team back again next year !
Signed on September 21, 2013 at 5:33 PM
Name:
Edward Hourigan
Rank/Title:
President - Plainville FD (New York)
Location:
United States
Comments:

Your class at Plainville was very worthwhile. I appreciate instructors who are knowledgeable.
Signed on September 18, 2013 at 4:40 PM
Name:
Roy E Jones III
Rank/Title:
Fire Chief (Retired)
Location:
Brewster, MA (Cape Cod)
Comments:

Sackroom 1963-67 Wagon Driver E-123, Lt Co 35, Binder's 3 engine Tandem Hook up. Water Supply Supervisor for many Tender Shuttle
Ty says HI Hope we can meet some day soon.
Signed on July 24, 2013 at 1:42 AM
Name:
Dave
Rank/Title:
Owner
Web Address:
www.mypencil.com
Location:
Burlington, NJ
Comments:

Nice looking website. Lots of good info & pictures. Thank You for your service. Keep up the good work.
Signed on July 12, 2013 at 3:57 AM
Name:
Rob Edgar
Rank/Title:
FF
Location:
Adamsburg, AL
Comments:

Just thought you might be interested in this. Looks like it took an hour to set up the tanker task force. Why a houses this big are built without hydrants I'll never know! http://www.youtube.com/watch?feature=player_embedded&v=DzmmXVJU2R8#at=619

Comment by Mark Davis: When homes of this style are constructed without residential sprinklers - the FD is already "behind the eight ball" when the 911-call taker answers the phone.
Signed on May 02, 2013 at 3:21 AM
Name:
John Munson
Rank/Title:
Chief
Web Address:
www.crotonfd.org
Location:
Croton-on-Hudson, NY
Comments:

Thank you guys for a great seminar this past weekend! I appreciate the knowledge and experience you shared with us.

We posted some info and photos from the seminar on our website, www.crotonfd.org. Feel free to check it out.

Thanks again, I learned a lot!
Signed on April 30, 2013 at 8:30 PM
Name:
Jason Nickson
Rank/Title:
Assistant Chief
Web Address:
Bedfordhillsfd.org
Location:
Bedford Hills, NY
Comments:

Thanks again for a great weekend of training in Croton on Hudson! It's always great to get out and pratice Rural Water Supply.
Signed on January 13, 2013 at 7:09 PM
Name:
Lynn W.Wilbanks
Rank/Title:
firefighter
Location:
Mtn. Rest, South Carolina
Comments:

Went to the 2nd day of training in Oconee Co. (SC) -- it was well worth the day! We only have dry hydrants in Mtn. Rest (SC), and the infromation we learned today about dump tanks will be extremely helpful. The instructor was very knowledgeable on water tank operations. Thank you GBW for a great day of training! And thank you to Chief King and Chief Loftis for setting up this training opporunity. ~ LWW
Signed on January 12, 2013 at 8:08 PM
Name:
Cody C. Collopy
Rank/Title:
Firefighter II/Fire Instructor I
Location:
Westminster, South Carolina
Comments:

Just finished day one of the two day class in Oconee County, South Carolina, and it was definitely a valuable class. I am looking forward to day two.
Signed on October 29, 2012 at 8:04 AM
Name:
Dana Middleton
Rank/Title:
Captain
Location:
Gilmanton, NH
Comments:

Great class and super practicals. Excellent training. Think I lost some weight! I know I lost my voice!
Signed on October 28, 2012 at 5:23 PM
Name:
Jim Shink
Rank/Title:
Driver/firefighter
Web Address:
jayfirerrescue.com
Location:
Jay, Maine
Comments:

Excellent weekend of training put on by Mark and Shane from got big water.
Signed on October 27, 2012 at 7:14 PM
Name:
Scott Shink
Rank/Title:
Captain
Web Address:
jayfirerescue.com
Location:
Jay Maine
Comments:

Great class today, thanks for sharing your knowledge with us!
| | |
| --- | --- |
| Page of 3 [ Back | Next ] | Records 1 - 30 of 69 |