YouTube Channel


Facebook Page


Twitter Page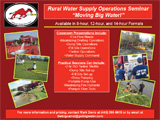 Rural Water Supply Operations Seminar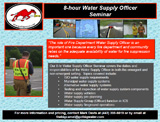 Water Supply Officer Seminar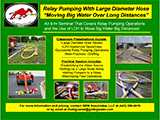 Relay Pumping With Large Diameter Hose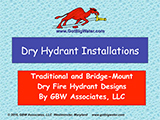 Dry Fire Hydrant Designs and Installations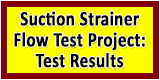 Web Counters
Website Visitors
Since
June 22, 2009

Visitors Today
May 06, 2021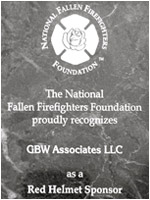 Larry W. Davis, Jr Inducted into the Class of 2021 Hall of Legends, Legacies, and Leaders
By President Mark Davis
October 15, 2020

We are incredibly proud to announce that Larry W. Davis, Jr was inducted into the National Fire Heritage Center's Hall of Legends, Legacies and Leaders Class of 2021. Larry joins many other fire service greats in the Hall and we are very proud of all of the work that he did to advance water supply operations throughout North America. Larry's induction into the Class of 2021 is the culmination of a life long effort that touched many, many folks. We at GBW Associates, LLC are very proud to continue the work that he started.

Mark E. Davis
President, GBW Associates, LLC.

Hyperlinks:
Hall of Legends, Legacies, and Leaders: Class 2021

jack cottet
October 17, 2020 at 10:47 AM
A WELL DESRVED HONOR LARRY HAD AN VERY IMPORTANT INFLUENCE ON ME AND MANY OTHER FIRE SERVICE INSTRUCTORS FOR MANY YEARS. HIS UNDERSTANDING AND GRASP OF THE IMPORTANCES UNDERSTANDING THE ISSUES INVOLVED WITH WATER SUPPLY WAS PIVITOL .

HE SERVED AS POINT MAN IN THAT CONCEPT ANDF EVEN TODAY THERE REMAINS THE NEED FOR A LEADER LIKE HIM TO ADOPT WATER SUPPLY AS A HIGH POINT AND CARRY IT FORWARD,
Jim Rackl
October 18, 2020 at 8:36 PM
I worked with Larry on the ISFSI Board many years ago. We had a common bond as Air Force firefighters. He was a wonderful teacher and leader. This is a well deserved honor.
Stan Merrett
October 19, 2020 at 2:03 PM
Congrats, A well deserved honor. I had the pleasure of attending several of Larry's Seminars and working with him on several occasions. He was a Mentor to many and a man that blazed the Water Supply Trail.