YouTube Channel


Facebook Page


Twitter Page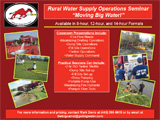 Rural Water Supply Operations Seminar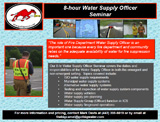 Water Supply Officer Seminar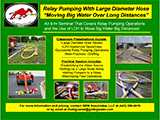 Relay Pumping With Large Diameter Hose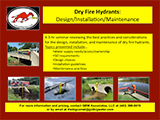 Dry Fire Hydrants Seminar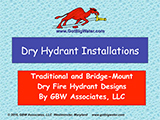 Dry Fire Hydrant Designs and Installations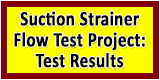 Web Counters
Website Visitors
Since
June 22, 2009

Visitors Today
Sep 30, 2023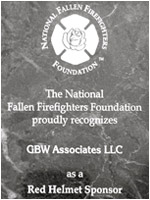 Dry Hydrant Design #56 - Strainer w/Backflush Feature
By President Mark Davis
July 13, 2023
One of the most important features of a dry fire hydrant design is the selection of suction strainer. When going with a barrel-style strainer, the best practice is to select a strainer that has a built-in back-flush feature that allows the contents of the pipe to be "pushed out" when the system is back-flushed by a pump operator. This feature is really important in a static body of water where there is a good chance of small fish and other aquatic life entering the strainer holes and living inside the pipe.



A back-flush feature is an important part of a horizontal barrel strainer design.




The non-perforated side of the strainer serves as a version of a vortex breaker.




The hole:pipe diameter ratio is sufficient to allow water through at an efficient velocity.




Removable plug for staking the strainer in place on the pond bottom.




This installation uses a strainer without a back-flush feature which means anything living in there pipe has to be forced out through the small holes.