YouTube Channel


Facebook Page


Twitter Page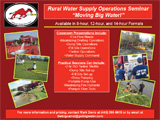 Rural Water Supply Operations Seminar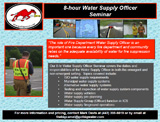 Water Supply Officer Seminar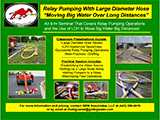 Relay Pumping With Large Diameter Hose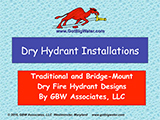 Dry Fire Hydrant Designs and Installations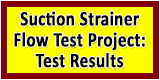 Web Counters
Website Visitors
Since
June 22, 2009

Visitors Today
Aug 08, 2020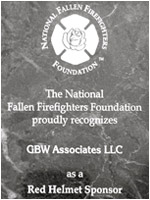 Tanker Design #4 - New 3,000-gal Tender - North Prairie, Wisconsin
By President Mark Davis
November 28, 2019
During our October 26th/27th seminar in the Town of Waukesha, Wisconsin, we encountered another new tanker....this one built by Pierce for the North Prairie Fire Department. Tender 3591 carries 3,000 gallons of water and is built on a Freightliner chassis. The rig is also equipped with a 1,000 gpm pump and carries a 3,000-gallon dump tank. For loading and dumping the new tender has a 4-inch Fireman's Friend valve and a Newton swivel chute. The tender was built to haul water, dump it, and get back on the road for more. The added feature of the 1,000 gpm pump allows for nurse tender operations should the situation warrant such operation. You can check out our Facebook Live walk-around video that we shot while in Wisconsin.
https://www.facebook.com/gotbigwater/videos/480499085881859/



Besides being well-marked, the rig also carries suction hose...an often much needed commodity at a large-scale water supply operation.




Getting loaded at the stream using 5-inch LDH right to the Fireman's Friend fill valve.




North Praire Tender 3591 arrives at the dump site and prepares to dump its 3,000 gallons of water.
Jerry Bob Grant
December 02, 2019 at 6:52 AM
Great looking truck & it looks like you did your homework on getting it setup !! Proud for you