YouTube Channel


Facebook Page


Twitter Page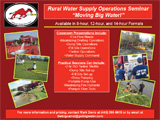 Rural Water Supply Operations Seminar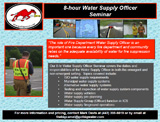 Water Supply Officer Seminar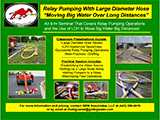 Relay Pumping With Large Diameter Hose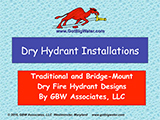 Dry Fire Hydrant Designs and Installations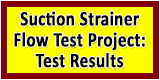 Web Counters
Website Visitors
Since
June 22, 2009

Visitors Today
Jul 06, 2020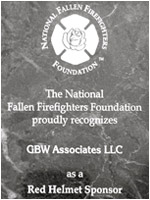 Tanker Operations #18 - Commercial Water Trucks
By President Mark Davis
July 25, 2019
Occasionally during our travels we get questioned about the use of commercial water trucks to support fire department water supply operations. Of course, our answer is most always, "It depends." It depends on the design of the water truck. Is it a spray truck only? Is there a discharge port? What is the pump-off capability? Are special fittings needed? How big is the tank? How is the tank refilled? Can the truck pump and roll? Will the FD be charged for the water? Can the truck be refilled with pond water?
All important questions to figure out before using a commercial water truck in your operation.
That being said, once limitations are known, then your use of a commercial water is only limited by your imagination. The water truck featured in this new story brings a lot of water "to the game;" it just can't off-load it very fast. But, if the fire flow is low like a woods fire or a field fire, then this truck might work pretty well. For a structure fire, get the truck out of the way of FD tankers: however, with 100 feet or so of hose, the water truck might be able to keep a dump tank "topped off."
The message is simple, before saying "no" during a critical operation, find a moment to think about how the water could be incorporated into the operation without hindering the effort.
Bert Baumgartner
September 07, 2019 at 5:51 PM
I don't imagine that poly tank on that truck was baffled. That's a common practice here for many of the construction outfits. They outfit them with a 2,000 to 4,000 gallon poly tank sometimes even in the back of a dump truck but most of the time on a flat deck with steel strapping and a 2" or 3" gasoline transfer pump.
I have however driven some purpose built water trucks with a 3" PTO pump and a couple of different discharge options and all were an over the top fill pipe and a couple different discharge options.