YouTube Channel


Facebook Page


Twitter Page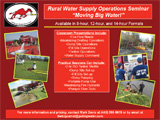 Rural Water Supply Operations Seminar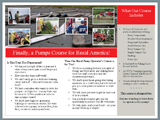 Rural Pump Operators Course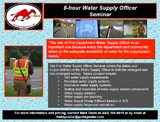 Water Supply Officer Seminar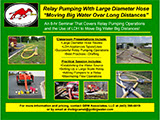 Relay Pumping With Large Diameter Hose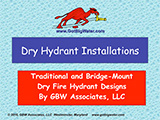 Dry Fire Hydrant Designs and Installations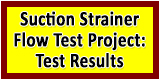 Web Counters
Website Visitors
Since
June 22, 2009

Visitors Today
Apr 26, 2019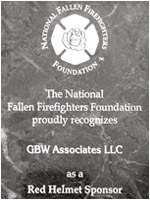 Dry Fire Hydrant Design 15 - Swivel Mount Design - Stewartstown, PA
By President Mark Davis
March 29, 2018
During the month of February 2018, we had the pleasure of designing and installing five, bridge mount dry fire hydrant systems in the Stewartstown area of York County, Pennsylvania. The project was funded in part by grant funds made available to the Eureka Volunteer Fire and Ambulance Department. The folks at Eureka VFD are well-known for their water supply capabilities and the new, bridge mount dry fire hydrants add more supply sources to their arsenal. The installation journaled in this news story occurred on Orchard Road at a township owned bridge crossing a local stream. Once permission was obtained from the township, work got underway and the system was installed. The final step as a certification flow test which produce an 1150 gpm flow. We hope to post news stories and video clips covering the other four installations.



First step in the process, evaluate the bridge and the water below it.




Good flow downstream of the bridge.




Better flow on the upstream side of the bridge. Not the norm, but at this site, it is where that installation will occur.




Custom angle brackets are installed.




Pipe is set for measurement.




The finished product in the deployed position.




The local FD chose to use a 6-inch NST female connection. An ETT LLC suction head was used.




The system in the stowed position. An ETT LLC Stream Strainer was used as the suction strainer.




In the stowed the position, the system piping is pretty well protected behind the guard rail.




A Hose Monster flow diffuser with fixed pitot was used to record the flow.




Eureka Engine 54-2 is shown here flowing 1150 gpm during the installation performance certification test at the Orchard Rd site.