YouTube Channel


Facebook Page


Twitter Page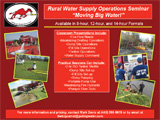 Rural Water Supply Operations Seminar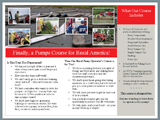 Rural Pump Operators Course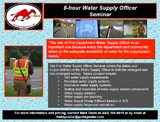 Water Supply Officer Seminar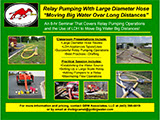 Relay Pumping With Large Diameter Hose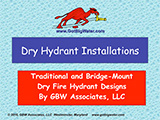 Dry Fire Hydrant Designs and Installations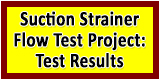 Web Counters
Website Visitors
Since
June 22, 2009

Visitors Today
Nov 19, 2018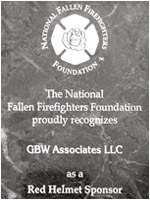 Drafting Tip #16 - Source Pumper Uses Dual Intakes
By President Mark Davis
November 30, 2017
As we have indicated many times, when drafting as the water source pumper is it important to access as much intake water as you can. Using multiple suction inlets is the drafting equivalent of the "heavy water" hook-up on a pressurized hydrant. Even if you are using a dry fire hydrant, if you can access surface water with an additional suction line then by all means do it. The additional suction lines will allow a pumper to increase its output. The photos shown with this News Story are from our relay pumping seminar held in Bristol, New Hampshire back in 2014. Gilford's pumper crew did a great job of using the dry fire hydrant (no strainer needed) and also accessed the surface water to supply water to more than 3000-feet of LDH. You will also note that the older pumper did not have an LDH discharge - but that was overcome by pumping dual lines into the double-clappered siamese. Excellent work!
Gilford Engine 4 took water from this pond using both the dry fire hydrant and a traditional surface water set-up. Each side suction inlet on the midship fire pump was used, thus allowing maximum water into the pump.

No LDH discharge? No problem - pump duals into a clappered siamese.